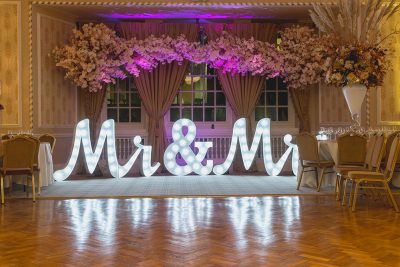 You've said 'yes', you've started hunting for the perfect dress, now it's time to turn your attention to finding the venue. Sounds easy, right? The truth is that there's a lot more to picking 'The One' than you may have originally thought. Thankfully, we've done a lot of the legwork for you and have compiled a full list of questions that you need to be asking yourselves and the venue managers. Some of these may not apply to you, but it's better to ask and get the answer than to arrive on the big day with a crucial detail missing.
Questions to ask yourself
So you've walked through the entrance, what are your first impressions? Do you like what you see? Does your partner like what they see? Before you get down to the nitty gritty of what's involved when hiring a wedding venue, you need decide whether it suits all aspects of your big day. Here's some things to be thinking about…
Do we like this venue?

Is there anything we don't like about it? Are these dealbreakers?

Are we happy with our chosen date?

Do we have back-up options in case this venue isn't available on those dates?

If you fall in love with a venue – and it does happen – be prepared to have some secondary dates in your back pocket

What is our maximum budget for venue hire? Is there any flexibility to this?

Does the room fit our theme?

Do we want an open (free) bar or will guests pay for their own drinks?

Is the room big enough for the number of guests we want to invite?

What kind of food do we want?

A sit down meal? A buffet? Finger food served in the evening?

Does anyone on our guest list have any dietary requirements or accessibility needs?

Do we want to stay overnight here?

Are there bedrooms just for the bride and groom or for guests too?

How much extra will these cost?

Here at Manchester Hall, we have several beautiful bedrooms for you to choose from for the bride and groom to retire to after a day and night of festivities. These will be unveiled in late 2018

How will our guests arrive and leave? Is there parking available? Does public transport run nearby?

Do we want both the ceremony and the reception here?

What time do we call it a night?
Questions to ask venue management
Now you've had chance to discuss things amongst yourselves, it's time to sit down with the venue's event manager or wedding coordinator and go over all the final details. If you really love the place, of course!
Is the venue free on our chosen date?

How much will it costs for that date?

Are we allowed to host both the ceremony and reception here?

Is your venue licensed for civil ceremonies?

How many guests can this venue accommodate?

Are we allowed to decorate to suit our theme?

What is the earliest that decorators, vendors, family and ourselves can arrive to start setting up?

What are the power supply options for entertainment? E.g. speeches and toasts, videos, slideshows, evening music, etc.

Are there other spaces we can use?

Is the evening limited to one room or can guests roam between rooms?

In addition to our new bedrooms, we also have a stunning rooftop bar opening in late 2018 which can provide you and your guests with incredible panoramic views of our city

Is there additional on-site accommodation for guests?

Are tables, chairs, linens, plates and cutlery all included?

What are the food options?

Could we see a sample menu?

Is it a buffet or sit down dinner?

Do you serve more food in the evening?

Do you cater to different dietary requirements?

Does your venue have disability access?

Are there noise level restrictions?

Is there a curfew on evening entertainment?

Do you have public liability insurance?

What is your cancellation/postponement policy?

How much is the deposit?

When is it due?

Can the full amount be paid in instalments?

Is VAT included in the final price?

Can all our details be drawn up into a written contract for us to sign?
Planning a wedding in Manchester? You can have your pick of gorgeous historic rooms to host both your ceremony and reception at the iconic Manchester Hall. Our skilled and experienced wedding planners will be with you every step of the way so you can have the celebration you and your partner deserve.